Australien: Bei einem Haiangriff unweit von Gracetown, südwestlich von Perth, wurde ein Surfer verletzt. In Umfeld von Gracetown wurden Strände gesperrt, einschließlich North Point, Big Rock und Lefthanders.


Quelle: Travel One 17.04.2018

2018 Maintenance Closure Notification
Thank you for your continued support of Skyrail Rainforest Cableway.
At Skyrail, we pride ourselves on our high standards of safety and reliability. To maintain these high standards, it is necessary to undertake preventative maintenance works, which sometimes requires the closure of the cableway for periods of time. 
Skyrail Rainforest Cableway has confirmed programmed preventative maintenance works to occur in 2018. The dates that Skyrail will be closed are listed below for your reference.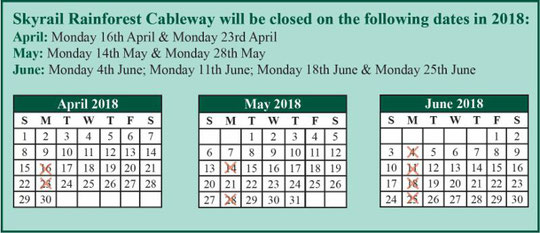 The above dates have been selected in careful consideration of visitor trends across the year and have been chosen to minimise disruption to our clients.
The purpose of this notification is to provide you with the maximum possible notice of Skyrails planned, preventative maintenance closures, to assist with your advance planning. 

Key Contacts
Skyrail - Sales & Marketing Department
Skyrail Reservations
Skyrail Rainforest Cableway provides its 
Important Information 
e-newsletter communication as a courtesy. The listing of third-party organisations, products or services by Skyrail does not constitute endorsement of that organisation, product or service, nor should it be substituted for seeking additional travel advice.